Cross-functional teams gather experts of different disciplines. They share their expertise to build a quality product together. Such teams consist of a good mix of people, confronting their perspectives and brainstorming ideas.
Does it make their work more effective, or otherwise, it prolongs the process?
Here are 3 ways that working in cross-functional teams affected (and improved!) our work at Untitled Kingdom.
Sharing knowledge
The key thing of our interdisciplinary work is the rich mix of talents figuring out how to build something truly meaningful. The process involves developers, marketers, growth hackers, and other people representing different perspectives. They inspire each other and help the rest of the team understand cases in a wider context. Our team members learn from others and combine their experiences / working backgrounds. Result? We create products that shine.
Minimising handovers
We're working together. Handing tasks over is usually out of the question, if we want everyone to understand the wider vision. We collaborate across disciplines, even when it isn't obvious that everyone needs to be present throughout. This gives us more "Aha!" moments, speeds up processes and helps us grow the potential of the final product.
Avoiding being blocked
No waterfall delays, no "I'm still waiting for your part" clashes. Oh, and besides, we're saving time and frustrations caused by misunderstandings.
How many times have you seen your team design/code something, just to put half of their work to trash a while after, cause they misunderstood the aim?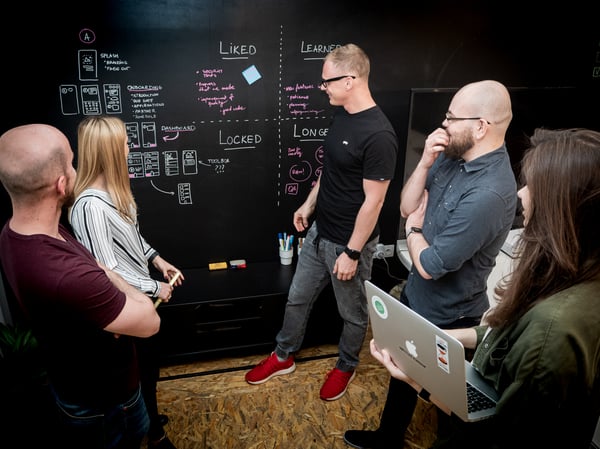 The cross-functional approach lets you forget about blocked processes and unnecessary operational delays.
Wrap up
Drawing on a range of viewpoints inevitably comes with conflicts. However, constructive conflicts make us question our assumptions and lead to clearer thinking.
The magic that happens in a cross-functional team is nothing to fear. Instead, we can harness it to create richer experiences. And always remember that a final product benefits from non-obvious perspectives.
---
Check out available job opportunities at Untitled Kingdom:
https://www.untitledkingdom.com/pl/kariera