Why startups fail (and how to avoid it)
Building startups is like cooking a soup. If the broth is spoiled, adding fresh vegetables and the best spices won't help. This seems banal but still, most companies fail because of wrong assumptions, which are made at the very beginning.
The three main reasons for the failure of startups are
a flawed business model,
lack of financing,
lack of interest in the solution on the market.
At Untitled Kingdom, we consciously don't want to just create useful applications according to the guidelines of the partner we are starting to work with. We treat technology just as a tool, not a goal. First of all, we care about his business success, so that the solutions we design have a chance to prosper on the market.
In creating such complex and sometimes complicated digital solutions, mistakes cannot be avoided, but the success or failure of a startup depends to a large extent on how crucial these mistakes are and how quickly we can eliminate them.
We have 11 years of experience in the market in product & software development and several dozen projects that are further developed. What's our recipe for a delicious broth?
You will find out from this text:
About the research, which results in the causes of startups' fall
What are the main reasons for the collapse of startups?
What solutions do we use to make sure that the digital product studio is equipped with to prevent this?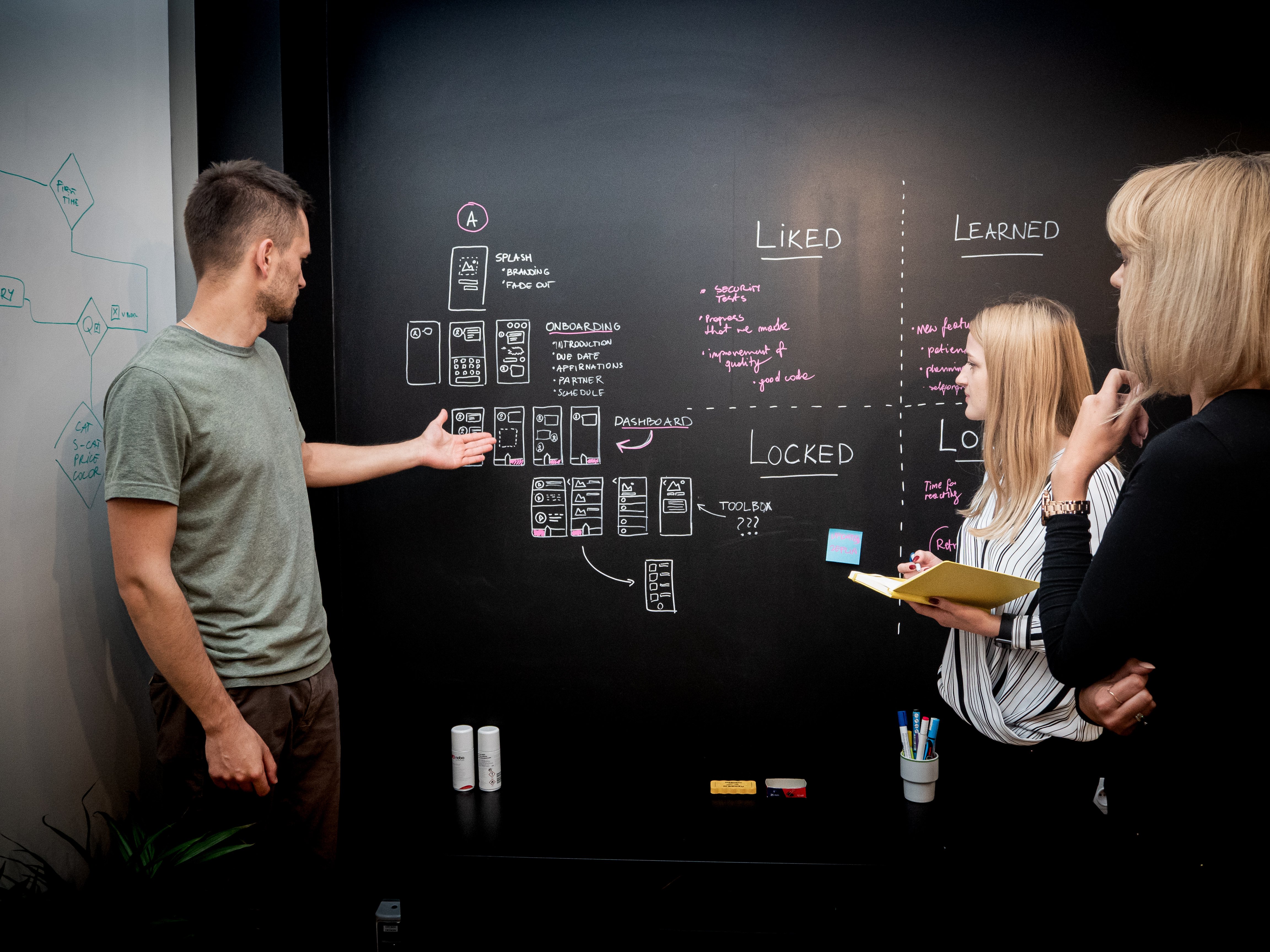 WHY DO STARTUPS FALL? RESEARCH
A study by Fractl, which looked into the causes of 193 startups and the CB Insights report "311 Startup Failure Post-Mortems" shows that there are three main reasons why startups fail:
Good idea, bad business
Not enough money
Lack of market interest
Of course, each cause of the fall was due to many factors and each story is entirely different, but we can find these three dependencies and patterns in all of them.
As a digital product studio, we want our partners not to make these mistakes, so in the initial phase of cooperation we make sure that the business assumptions are optimal, a startup has adequate funding and it's a solution that users will want to use.
From our experience, when you want to develop a successful product, you need a specific approach and double-check of the research, vision, strategy, user experience & development processes. We do it at our Discovery Workshops.
GOOD IDEA, BAD BUSINESS. HOW TO FORESEE THAT DISASTER
For 14 years and more than 85 implemented award-winning projects we see that often being inside the company, it is very challenging to objectively look at its possible problems, be aware of the wrong assumptions and pivot.
So we not only want the application to be successful, downloaded and used by people, but if we get involved in something, we want the business to run smoothly.
This approach distinguishes us from typical companies, which simply implement the client's ideas and do not go one step backward. Thanks to the initial Discovery Workshops, our involvement is more significant as a team, because we put our knowledge and experience not only in the application but also in the business assumptions. This leads to building a better community and motivation. Together we achieve successes, overcome difficulties and sometimes we have to accept failures.
NOT ENOUGH MONEY. HOW TO TAKE CARE OF A FULL WALLET?
As we read in the report, "surprisingly, money-related issues were the most common reasons the funded startups failed", while "only 28% of startups without funding blamed a lack of funding or running out of cash for their shutdown."

Of course, a lack of funding is very often associated with an inefficient business model and a challenge with scalability, which in turn prevents investors from further financing.
Obtaining funding is not our domain; however, due to our experience with several dozen projects, we used to advise on this issue. Many times we have prepared government subsidies for partners in Great Britain and France or recommended solutions to startups in the United States.
LACK OF MARKET INTEREST. WHAT DO USERS WANT?
An interesting insight from the report concerns the question of product development. Again, the most important thing is to use technology as a tool, not a goal:
'Some software companies were too caught up in the technical side, which led to customer development issues. Devver, a cloud-based enterprise software tool, "focused on engineering first and customers second," according to its founder.'
A product-market fit is something that we can investigate very strongly even in the initial phase of cooperation. We can then answer questions such as:
Are users looking for a solution and where are they looking for it?
Is there already competition for this solution? How does this work?
What are the advantages of the competition and what is it lacking?
What distinguishes us from the competition?
What does the research on users say? What conclusions do we have from conversations with the first users?
We like to say that it doesn't matter what our partner wants or what we want. What is important is what our user wants and how we can provide them with the solution they are interested in.
WRAP UP
According to the Fractl study, there are three main reasons why startups fail:
Good idea, bad business
Not enough money
Lack of market interest
With 11 years of experience on the market in product & software development, we have perfected processes and ways to minimize risks and make sure that the project will have a chance for business, financial and marketing success.
At the very beginning of every cooperation, we organize Discovery Workshops, then we consistently implement product development to a project that accompanies software development, and in the end, we take care of coherent service design.
All this allows us to go beyond the standard framework of most software companies and take care not only of building cool, well-functioning applications, but also secure business results.
You can read more stories about startup failures here: https://www.hownottolaunch.com/
📈🩺 Looking for more articles about developing digital health solutions?
Join the Untitled Kingdom newsletter. Sent on the 20th day of the month. Once a month. Industry news, scientific research & any information useful for developing MedTech.
"The State of FemTech" ebook co-author. FemTech enthusiast, copywriting, content marketing, strategy pro. Culture geek, addicted to learning new things and self-development. Bad jokes therapists and a French leave enthusiast. A creative mind that no one has ever managed to control.