The Future of HealthcareIncluding Google's point of view on e-health
In one of the most exciting panels at SXSW 2019 in Austin, TX called The Future of Healthcare, Really attended David Feinberg, who is responsible for health-related activities at Google. Previously, David was president and CEO of Geisinger, one of the nation's most innovative health services organizations.
The meeting was led by Clay Johnston, vice president for medical affairs at The University of Texas at Austin and inaugural dean of Dell Medical School. His vision is to create a new model for academic medicine that accelerates innovation to improve health and reduce inefficiencies in health care.
This text is a summary of the most important threads that appeared in the lecture.
5 key takeaways
The problem of health care is profound, systemic, and therefore requires fundamental changes. Without these pillars, technological development will only help a handful of conscious people.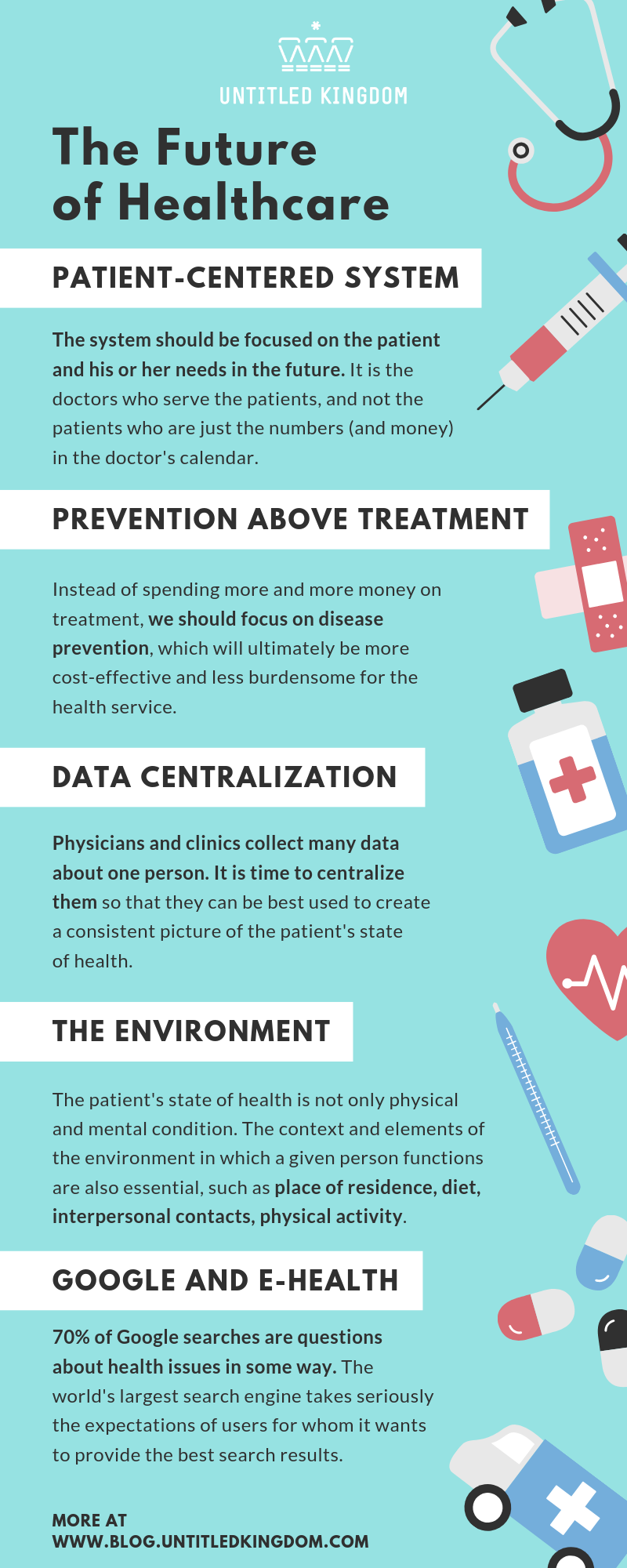 1. The system should be focused on the patient and his or her needs in the future. It is the physicians who serve the patients, and not the patients who are just the numbers (and money) in the doctor's calendar.
2. Instead of spending more and more money on treatment, we should focus on disease prevention, which will ultimately be more cost-effective and less burdensome for the health service.
3. Physicians and clinics collect many data about one person. It is time to centralize them so that they can be best used to create a consistent picture of the patient's state of health.
4. The patient's state of health is not only physical and mental condition. The context and elements of the environment in which a given person functions are also essential, such as place of residence, diet, interpersonal contacts, physical activity.
5. 70% of Google searches are questions about health issues in some way. The world's largest search engine takes seriously the expectations of users for whom it wants to provide the best search results.
The patient-centered system is the future
Feinberg and Johnston said that health care focuses on medical facilities and physicians, not patients. This is an absurdity that makes it difficult to make an appointment with a specialist, and the patient comes as a weaker and minor party in the relationship with the physician.
The area for patients in medical institutions or hospitals is sharply separated. Patients are waiting in the overcrowded corridors for their turn. Doctors do not make it easier to understand the causes of diseases or symptoms; they use inaccessible language, which is difficult for the average Joe to understand.
Prevention above treatment
People do not want their lives to be focused on health. We don't want to think about it every day, because when we start to do it, it means that something is wrong with us. What people want is an opportunity to play freely with the kids, practicing sports without any problems, good physical and mental condition.
With advanced technologies used in digital health and devices that can monitor us 24 hours a day, the system and physicians should focus less on the treatment and more on prevention. This will require greater use of existing data, better medical interviews and a concentration of doctors not only on the results of examinations but on the patient's environment as a whole.
Thanks to data and innovative devices such as a ring, which measures heart rate more accurately than watches read them from the wrist, it will be more comfortable and easier for us to examine ourselves in real time. Thanks to these data, combined with machine learning and artificial intelligence, in the future the health service will focus on predicting diseases even before they happen, and not only on treating their consequences as it is now.
Data centralization
The development of advanced technologies accumulating data, machine learning and artificial intelligence will initially be a significant expense. Although in perspective, the costs will fall, because fewer people will require difficult and challenging treatment.
Currently, the data are scattered around many clinics and institutions, there is a lack of consolidation, combining facts between physicians of different specializations. They are not fully utilized.
The centralization of data would lead to more effective diagnosis by doctors, and treatment would be more holistic rather than selective and punctual.
Wide perspective — the environment
As late as 20–30 years ago, 85% of medical visits were questions about the patient's history, surroundings, feelings, and 15% were tests and examinations. Now the proportions are distorted because physicians have a strict time limit for one patient.
Health is affected by our entire environment:
place of residence (zip code),
genes,
upbringing, family,
loneliness,
diet,
physical activity.
It has also been proven that if you go to a physician, you trust and who shows empathy, the effects of the treatment are much higher than with a doctor who is unfriendly and non-empathic.
Google's point of view on e-health
We already know the direction in which Apple wants to develop on digital health. What does Google do about it?
The aim of Google is making health care accessible for everybody. At a time when 7/10 of Google's searches are related to medical issues (disease, symptoms, treatment), one of Google's most important goals is to help users access relevant, reliable health information.
The goal of the world's largest search engine is to match the answers to users' health queries better, but also to solve the issue of human security.
Google must ask itself the key questions — should false or inconsistent with medical knowledge answers be excluded from search results? Should and to what extent use the knowledge about what users want to find to help them, e.g., in case of depression or suicidal thoughts?
Summary
The participants consistently stated that a system solution is needed, and this is much more important than other devices that only a handful of people know about.
What do you think about slightly controversial Feinberg's thesis, that startups in Silicon Valley are solving their problems, not problems of the whole country?
If you're currently looking for a technology partner to develop a web or mobile digital health app, look what we can do for you.
📈🩺 Looking for more articles about developing digital health solutions?
Join the Untitled Kingdom newsletter. Sent on the 20th day of the month. Once a month. Industry news, scientific research & any information useful for developing MedTech.
"The State of FemTech" ebook co-author. FemTech enthusiast, copywriting, content marketing, strategy pro. Culture geek, addicted to learning new things and self-development. Bad jokes therapists and a French leave enthusiast. A creative mind that no one has ever managed to control.