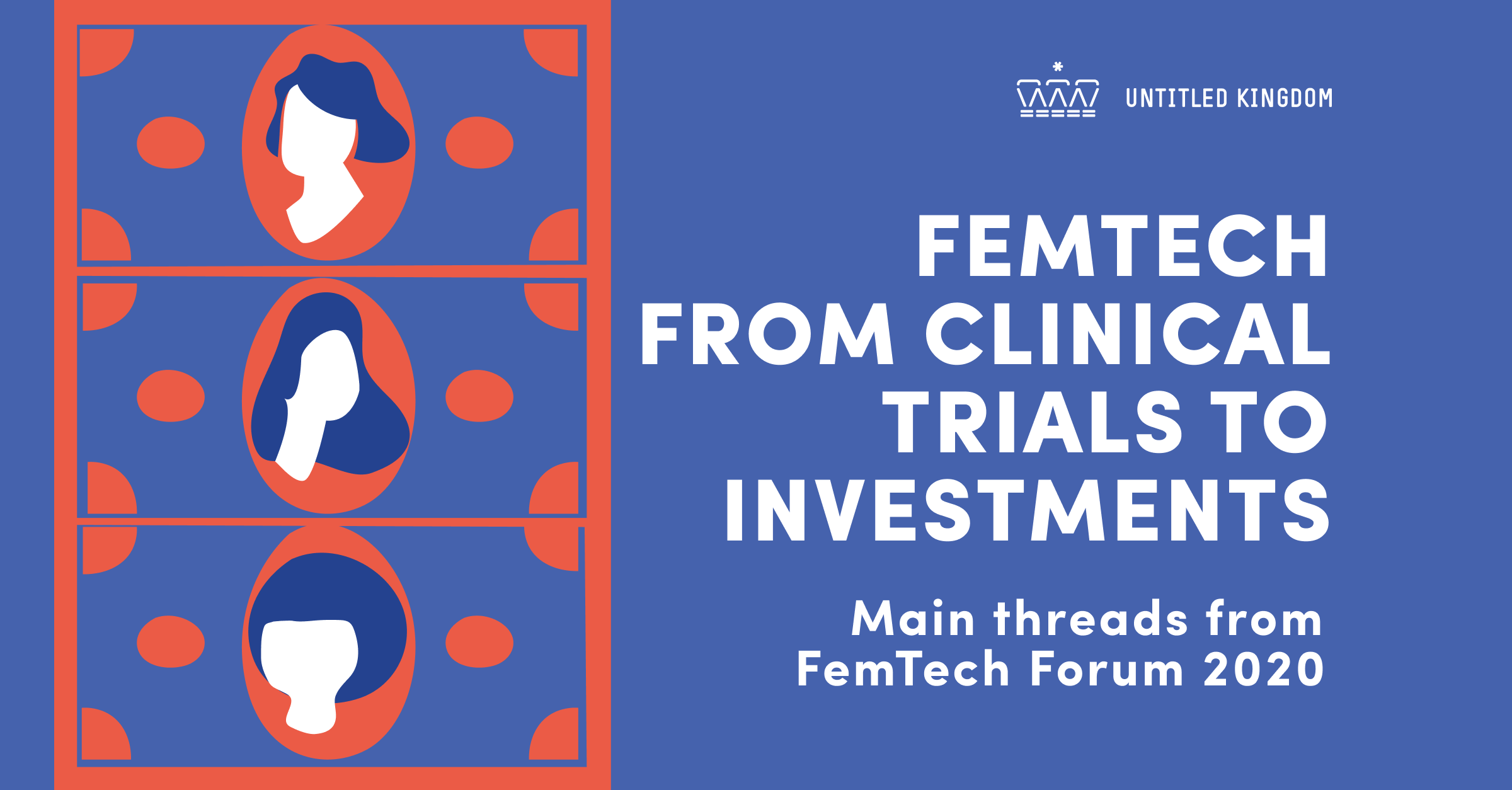 FemTech from clinical trials to investmentsMain threads from FemTech Forum 2020
On the 25 of June 2020, we attended FemTech Forum, The First Global Virtual Conference About FemTech organized by Women of Wearables with Ela Han, the co-author of "The State of FemTech" ebook.
If you want to remember the most critical moments, we want to point out the main threads, statements, and exciting facts mentioned by the CEOs, founders, investors, physicians, and experts at the conference.
Photo from womenofwearables.com
'Balancing Trust, Privacy, and Innovation in FemTech'
How do FemTech companies keep innovating while making sure the information they collect remains confidential?
Technology and data sharing
Technology is all about inputs and outputs. The most important is finding gaps - and trying to fill them with problem-solving technology solutions.
People love to share personal data when they feel that their input is crucial to get personalized output, analysis, stats. Nicole Leeds from Clue mentioned a simple period tracking process - you need to add data when you menstruate and other symptoms to give the app the possibility to tell you back when your next cycle will begin.
Wearables and sensors are gathering lots of data not only about the period but also about the reproductive and mental health. We want to be able to use it but also to share it with doctors.
When you're responsible for the product or app development, measure only what matters, and what will be profitable for doctors and end-users. Collect a minimum of data to give maximum experience. As Clue, don't share data for profit to third parties to maintain your users' trust.
Challenges and opportunities of FemTech
We all need to educate women about data protection and let them choose the apps wisely. That allows them to share their data without any concern.
The panelists also mentioned WWDC 2020 and Apple's new privacy policy and privacy dashboard as an excellent solution for users.
We have on the market a lot of period tracking apps that are not always research-based. We need more solutions for people who suffer from e.g. endometriosis, which is under-researched.
There are many gaps in women's health and technology solutions so the FemTech market is still not saturated.
In the first panel took part Nicole Leeds from Clue, Dr. Stephanie Kuku from Hardian Health, NHS, and World Health Organization, Natasha Singh from Gemserv, and Thérèse Mannheimer from Grace Health. The panel discussion was moderated by Marina Gerner, a journalist writing for the Guardian, the Times' Raconteur special reports, the Wall Street Journal, and more.
'Designing Products To Suit (And Fit) A Modern Woman's Needs'
We're in an era where women are pushing the frontiers of innovation in the healthtech industry, designing products that suit (and fit) a modern woman's needs because they're the ones who know their customers best.
What's ahead of FemTech
By 2025, FemTech is expected to reach $50 billion.
FemTech is not a niche market or just a buzzword. We should get out of a vicious cycle of repeating those phrases.
FemTech is not only about period tracking apps - different sectors need more exposure.
We live in a world where many women are thinking about buying period products or a meal in less developed countries.
Different physiology, different diseases
Female physiology differs from male physiology, and because of gender differences, women and men are more likely to develop different diseases. Equality should be about access and treatment, but it should not pretend that we are all built the same.
FemTech startups are taking on a wide range of issues and conditions that disproportionately affect women, including osteoporosis, breast cancer, autoimmune diseases, stroke, thyroid issues, chronic fatigue, anxiety, and depression.
In the second panel took part Eirini Rapti from Inne, Urska Srsen from Bellabeat, Kristy Chong from Modibodi, Danela Zagar from INTIMINA. The panel discussion was moderated by Olga Razumovskaya, a former Wall Street Journal reporter covering technology, venture capital, and startups in the US and Russia.
More about designing FemTech products you can read in "The State of FemTech"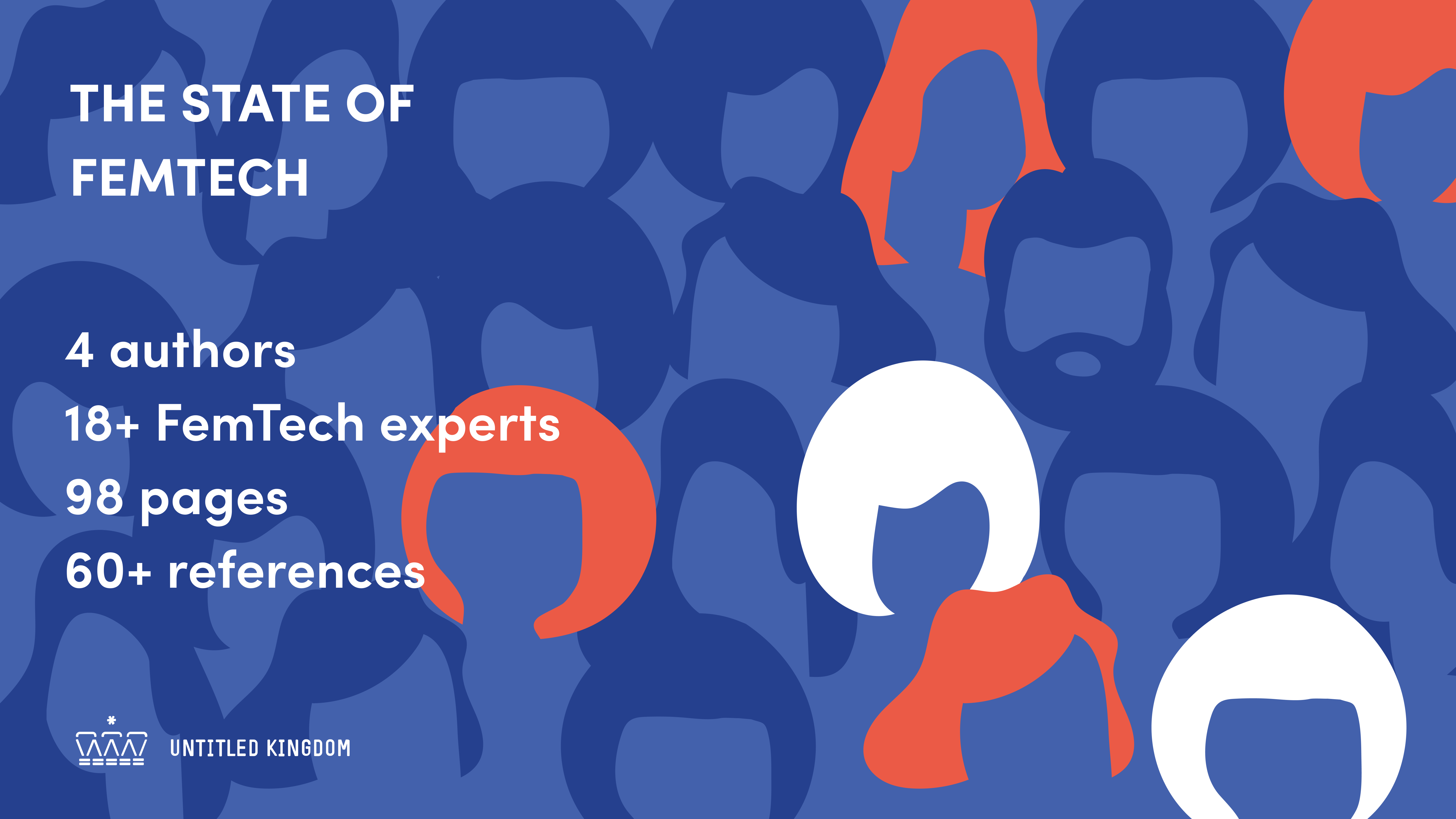 'Investing in FemTech: Challenges and Opportunities'
Investors are starting to recognise the value of the FemTech industry, which is estimated to be worth $50 billion by 2025 (Frost & Sullivan).
Research
We don't have enough solutions for women, because of the vast data gap around the female body. We should invest more in research to push FemTech forward.
Menopause research is underfunded, but for example, erectile dysfunction is a huge market with lots of solutions.
Sexual wellness a few years ago was all about men. We see booming sexual health market for women.
Contraception for women is limited to 15 minutes with OB/GYN and the decision is under-researched.
Direction of investment
Which other sectors are interesting: aging issues served with technology, OB/GYN clinics.
VCs can see fertility as an opportunity in the US. It's not only the women who are the target audience, but the fertility problem is also about the husband or father/brother/male-friend. A great example is Mojo, a company that helps men freeze their sperm. There are companies that allow you collect the sperm at home.
VCs are interested in services that help women get back to work quickly after childbirth in the US (in the EU, we have maternity leaves).
VCs are mostly male, and they don't experience female problems, so it's harder for them to understand the product or service when they're not targeting group - it's normal that's easier to do more with female VCs. That's why especially with FemTech it's worth growing your network and talk to VCs interested in FemTech.
More about investing in FemTech
In this panel took part Sophia Bendz from Atomico, Maren Bannon from January Ventures, Louise Samet from Blossom Capital. The panel was moderated by Bérénice Magistretti, FemTech Journalist, and Angel Investor.
'The Gender Gap in Medical Research'
It wasn't until 1994 that the National Institutes of Health (NIH) in the U.S. mandated the inclusion of women in clinical trials.
Clinical trials
In the US, in 1977, women were excluded from clinical trials because e.g., embryos were affected. It was not good for women in the long run. In 1994 the National Institutes of Health found out that it was a mistake and mandated women's inclusion.
It's also essential to include in clinical trials, not only men and women but also people of color, from different ethnic groups.
When testing on animals, its gender is often overlooked.
"We don't know much about women with menopause and other related diseases. Through its research, Gennev has found five different types of menopause, including pre-menopause, perimenopausal, and later menopause".
More about clinical trials from The FemTech Forum
Access to FemTech
Wearables are not for everyone - not everybody can afford gadgets or trackers. It's a challenge to take technology to as many people as possible.
We should focus on that almost everyone has a phone with sensors - there's still a lot of work to do.
Everything starts with people and questions and human to human contact, but technology and data help in the end.
Being angry at men
In FemTech, women should be loud but not irritated. We cannot be angry at men, but we should highlight our issues and needs confidently and reasonably.
In this panel took part Jill Angelo from Gennev, Ilka Schellschmidt from Bayer, Helene Guillaume from WILD.AI, Dr. Brittany Barreto from Femtech Focus. The panel was moderated by Laura Lovett, Managing Editor of MobiHealthNews where she covers the intersection of healthcare and technology.
'Fertility: Not Just a Woman's Issue'
Infertility has become a global reproductive health issue that is affecting many individuals and couples. But while men also face infertility issues, the pressure and burden of reproductive health are often imposed on women.
In/fertility
Talking about the complications of getting pregnant is commonly done under cover of shame. Longer-term childless marriages, which have a fertility problem, are unfortunately often judged by ignorance, lack of knowledge, and, consequently, lack of understanding.
1 in 7 couples has a problem with infertility.
Definitely, more stigmatization concerns men's fertility.
There is still too little education in the society about egg freezing or sperm freezing.
Many companies in the US benefit their employees with medical packages in fertility clinics.
Founders are not expecting a baby boom by COVID-19, because people are afraid of financial problems. The data from their applications shows that users take precautions more often than trying to conceive.
Baby boom after COVID-19
In this panel took part from Legacy, Elina Berglund Scherwitzl from Natural Cycles, Lea von Bidder from Ava, Alyssa Atkins from Lilia. The panel was moderated by Amy Lewin, deputy editor of Sifted.
'Is Sexual Wellness Still a Taboo in Business and Venture Capital?'
When male investors still cringe upon hearing the word "vagina" and Facebook's algorithms ban ads that allude to a woman's anatomy, you know there is something wrong with the world of tech.
Advertising sexual health products
While we have become used to seeing men's potency products on the streets, the radio, or television, how many products are related to women's sexual health? Even if there are pads and tampons in the media, to what extent is this direct and bold message?
On Facebook and Instagram, companies cannot promote adult products and services unless they focus on contraception or family planning, so sexual health advertisements are blocked.
You need to spell 'vagina' or 'masturbate' differently, when advertising sexual health products or use the word 'sex'.
Historically, women's bodies have been overlooked. The first anatomically-correct sketch of the clitoris is from 1998 when Helen O'Connell of the Royal Melbourne Hospital published her studies on the clitoris. Such work had already been carried out for the sexual function of men's reproductive organs in the 70s.
Speaking openly about sexual wellness
'Clitoris', 'vulva' - we're comfortable with terms like 'vagina', but we need to use correct words when speaking about female organs.
It's more normalized in the US than in Europe to talk about vagina/vulva and sexual wellness than in the EU.
There is still a taboo for women over 50 about menopause, but women over 50 get more open with their sexuality. People have sexual needs during the whole lifetime, not only in their twenties and thirties.
In the panel took part Lora Haddock DiCarlo from Lora DiCarlo, Dr. Jane van Dis from Maven Clinic, Trish Costello, from Portfolia, Billie Quinlan from Ferly. The panel was moderated by Bérénice Magistretti, FemTech Journalist, and Angel Investor.
More about sexual health we wrote in "The State of FemTech":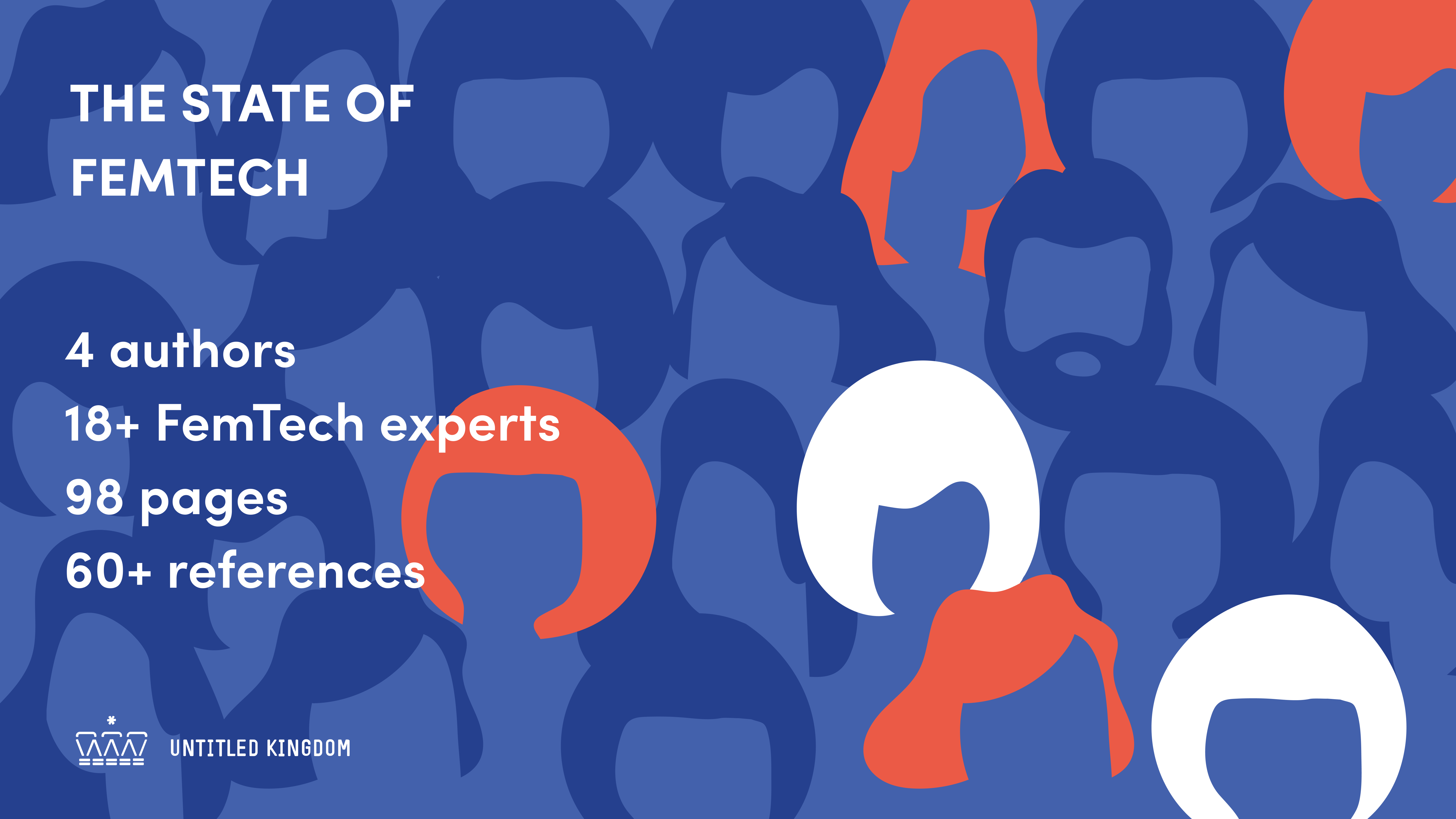 'Launching and Scaling A Successful FemTech Startup'
Yet with successes like Maven Clinic's recent $45 million Series C round, top tier investors, like Sequoia Capital, are beginning to understand the value of investing in FemTech companies. Add to that Modern Fertility and Ruby Love both raising $15 million for their Series A rounds and you get a coherent investment thesis - FemTech may be an emerging sector, but the market is there: 50% of the population.
Importance of FemTech
FemTech could be repulsive for men - we all should stand for variety and equality for men and women in FemTech.
It could be FemTech or something else, but women's health technology market is growing and VCs should take them more seriously.
Product development
The storytelling aspect is essential to selling your idea to VCs and the end-user.
Personalization - every human and patient has different symptoms and their individual.
In the last panel took part Katherine Ryder from Maven Clinic, Afton Vechery from Modern Fertility, Kat Mañalac from Partner at Y Combinator, Crystal Etienne from Ruby Love. The panel was moderated by Chris O'Brien, European Correspondent for VentureBeat.
Wrap up
For me and Ela Han, FemTech Forum was a must-be event to keep an eye for FemTech trends and development. It was especially interesting for us as we are the authors of "The State of FemTech" ebook and representatives of a software and product development company focused on FemTech projects and Partners of e.g. Elvie.
It was a great pleasure and opportunity to learn, and share our opinions, and to expand the network. Thanks for that, and we're waiting for the next event from Women of Wearables!
📈 🩺 Looking for more articles about developing digital health solutions?
Join the Untitled Kingdom newsletter. Sent on the 20th day of the month. Once a month. Industry news, scientific research & any information useful for developing MedTech.
"The State of FemTech" ebook co-author. FemTech enthusiast, copywriting, content marketing, strategy pro. Culture geek, addicted to learning new things and self-development. Bad jokes therapists and a French leave enthusiast. A creative mind that no one has ever managed to control.